About Grants
---
The Latvian Writers' Union administers a number of grant programs that focus on the promotion of Latvian literature and publishing abroad.
Please, select the section that corresponds to your professional interest – translations or publishing.
ATTENTION: NEXT OPEN CALL for foreign publishers will be announced at 10th of September!
Please check the results for the 2nd Contest of 2018 in the section SUPPORTED PROJECTS!
You can find more information in GRANTS FOR PUBLISHERS.
And see also our info-graphic: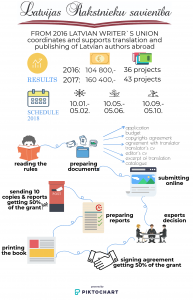 Please contact:
JEĻENA BUDANCEVA
jelena.budanceva@gmail.com
0037126372902
Please find forms of reports for foreign publishers here:
descriptive report – Descr report
financial report – FIN report