About Grants
---
The Latvian Writers' Union administers a number of grant programs that focus on the promotion of Latvian literature and publishing abroad.
Please, select the section that corresponds to your professional interest – translations or publishing.
ATTENTION: OPEN CALL for foreign publishers is announced! Please submit your applications till 5th of October 2018!
You can find more information in GRANTS FOR PUBLISHERS.
And see also our info-graphic: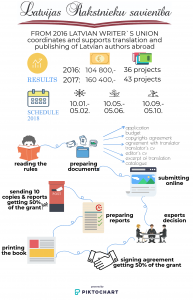 Please contact:
JEĻENA BUDANCEVA
jelena.budanceva@gmail.com
0037126372902
Please find forms of reports for foreign publishers here:
descriptive report – Descr report
financial report – FIN report